The Horny Masseuse - Candy Part 1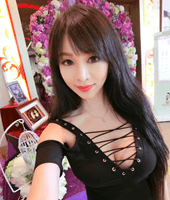 An erotic interview with a Chinese masseuse juggling studies and a job she loves.
Candy is a 22 year old Chinese girl who adores her job as a masseuse, but constantly fears one of her fellow students discovering her secret profession. On one hand she looks forward to graduating in Economics and gaining professional employment, but she knows she will miss the excitement of having an alter-ego as a popular masseuse.

Interviewer: How did you start in massage?
Candy: I was in need of an income so I looked through jobs section of The Daily Telegraph and the colour of the adult services section stood out. It was never something I had even thought about, but suddenly the thought of taking my clothes off and wanking off guys got me wet. I did some internet searching and found a shop in the city, away from the campus. It had a nice web page, I had an interview, and I started the next day.
---
I: Did they assess your massage skills?
C: I told them I'd never done it, so they gave me a demonstration on a few regular customers, so I didn't get paid the first day at all. The customers were quite happy to have two sexy girls with their hands on them!

I: Did the management ever hit on you?
C: No, I've heard that that can happen to young girls in shops run by men, but my Mamasan was good to me.
I: Did you have any nerves getting undressed?
C: No, it just felt natural. As you see I have nice boobs and figure, so I've always been confident with my body, though I was very self conscious at age 13 with a full C cup when many of my friends were still quite flat chested. But once I started getting compliments and special treatment from guys, I grew to love my figure.
I: Special treatment? Like what?
C: Guys would often buy me drinks, or offer help with homework, or help me with my computer. Just things to be nice.
I: You know they were hoping for something don't you!
C: I was very naive when I was younger, but as I got well into my teens I started feeling very sexual, so I started to understand their motives better! I flirted a bit which was fun, leaning over to give boys an eyeful of cleavage on occasions!
I: Did you ever 'reward' a young man for his chivalry?
C: I had a very strict family, so my opportunities to play were very limited. But one weekend when I was 16 my parents went away and left me alone. I called up a girlfriend to come over, and without telling me, she brought over a boy that we both liked.

I: And.....?
C: It was a cold night so we watched a movie together huddled under a blanket. I noticed that the other two were very quiet, then noticed that it looked like something was happening under the blanket. I was so shocked, I didn't think, I just pulled the blanket off and I was right. Her hand was wrapped around his cock and she'd been jerking him off.

I: And....?
C: I was stunned, but it was so much larger than photos I'd seen, I couldn't take my eyes off it. They were really embarrassed and he hurriedly went to put it back in his pants, but I said no, I wanted to watch what happened. I was vaguely aware of ejaculation, but had never seen it happen, not even on porn.

I: And...?
C: He was thrilled of course, so he took his pants off altogether and put her hand back on his dick. I was mesmerised and got closer to watch. He got pretty turned on of course, and could tell both of us girls were excited, then he suddenly took her hand away and said "show me your tits, both of you". My girlfriend was a bit hesitant, but I couldn't wait to show off my pert pair, so had my top off in no time. She was a bit slow to follow, so he motioned to me "your turn", and I almost pushed her out of the way to get my hands on his dick. She was feeling left out so she took her top off and then shoved me out of the way so she could suck him. That got me so wet, I couldn't help myself and pulled my panties down and started masturbating while watching her give him her first blow job. I have no idea if it was his too.

I: And...?
C: He was young and full of spunk, it didn't take long and he was suddenly cumming in her mouth. She hadn't thought that far ahead and was disgusted, spitting it out and screaming that he should have told her. I thought it was hilarious and started laughing. She got cranky, cleaned herself off and called a taxi to take her home, leaving him and me there alone.

I: I'm dying to know. Did you and him 'play' when she was gone?
C: It was a bit uncomfortable, it had all happened so out of the blue, and certainly it was a new experience for me, and I didn't know whether to just finish watching the movie, or tell him he should go home too, but part of me was enthralled by the cum I'd seen.

I: So how did you proceed?
C: I was still feeling really horny, and was partly wanting him to go so I could rub myself out, but partly wanting to get his cock in my mouth to lose my oral virginity. Before I could say anything, he said "you know, she stopped before I finished cumming, I think there is some more there, could you, um, help me with it?"
He must of known what I was thinking, but I needed to cum as well, so I suggested we go to my bedroom and we could eat each other. I took him upstairs, we both got undressed, he laid down and I wasted no time straddling his face with my wet pussy and taking him in my mouth. I had a quick succession of little orgasms, each stronger than the previous, but before I could really build up he was cumming in my mouth and it was MY turn to be disgusted! I didn't really like the taste, but I was thrilled that I had finally sucked cock, and had a man touch my pussy, so a mouthfull of jizz wasn't so bad.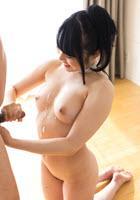 I: How do you feel about a mouthful of cum now?
C: I only suck my partners without a condom, but yes, I love the taste.

I: So you don't provide natural oral to customers?
C: No, nor do I provide full service. But I do enjoy when a guy wants to cum on my boobs - and when HE wants to lick it off me, that turns me on.

I: Guys eating their own jizz? Does that happen often?
C: Not  at all, that's why it excites me when a guy does it.

I: That's a wild tale, do you have any more?
C: Oh yes, I've been working for 3 years so there's lots of kinky stuff I can tell you about, but I've got an appointment to get ready for!

I: Thankyou Candy, it's been great of you to take the time to share this with us.
C: Welcome. I hope to share more stories with you!