The Sexually Awaken Traveller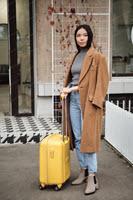 A pretty girl in distress discovers her inner slut
WeChat had become a regular source of pickups when I was in the city; there were often attractive girls from China on holiday looking for a short-term Aussie boyfriend to practice their English with, and to spread their legs far away from the scrutiny of their conservative parents back in China. A little mandarin placed on my profile and I looked like a man of the world!
Ming was like the others, a conservative photo taken on The Great Wall of China not giving any hints as whether she was up for fun or not. I sent her a 'hey pretty girl' message and got no reply for a few days, and had actually forgotten about her when a simple "hi" response came back.
---
We chatted back and forth a little, with the usual hours in between responses that so infuriates me, but the lure of pussy on the hook kept my impatience in check. She had been to a few of the usual tourist spots, eating at nice Seafood restaurants including Doyle's at Watsons Bay and Sydney Cove Oyster Bar, so I figured she had a few bucks. Then she spilled her guts, she was here with her boyfriend and after a blazing row he had dumped her and kicked her out of the hotel. She needed help, as her flight home was a week away and she didn't have the funds for a hotel for a week, and didn't know what to do. It was clear she was in distress and might be 'appreciative' of some help.

I told her I had to work, but had a spare room in my apartment about 20 minutes from the city and maybe she could stay there if she could find her way. I told her which bus to catch, how to get an Opal Card and where to get off. She understood how to get around as she had travelled widely with her boyfriend, so I told her I'd be home at 6pm. It was later than I expected, but finally came the knock at the door and there she was, almost in tears but with two large suitcases she had had to lug all the way. I felt slack for not picking her up at the bus-stop.

She was pretty, as I expected from her having had a rich boyfriend, with a smooth complexion, large compelling eyes and medium height. Her breasts were small to moderate size, not high and firm, but not bad. My mind was galloping ahead to whether I would get to see them, but first I had to get her comfortable.

Her English was ok, sufficient to converse with the occasional reference to a translator app. She had enough money for food and entertainment, but she didn't want to raid her credit card to pay hundreds of dollars a night for a hotel, so she was very happy to have somewhere to stay. She said she would help around the house to make it up to me, so I said I'm sure we'd find a way to let her show her appreciation.

I gave her the WiFi password, a spare key, the bus route numbers and told her she was free to come and go, and that maybe we could go get dinner together one night. I already had a date that night, so her seduction would have to wait.

The date went better than expected, getting laid and spending the night at the girl's home, so I didn't get home again until the next morning. I opened the door and found her asleep on the lounge. She woke up when I closed the door, she looked around, saw me, and jumped up, giving me a big hug. She had been worried about me, thinking something had happened, as I hadn't told her I might not come home. The hug just lingered a bit, with her clearly in need of some contact, so I obliged, pulling her more tightly and letting my hand slip down to her cup her ass cheek. She responded by pulling in even closer, until I could feel my cock twitching and getting hard. I decided not to rush things so eased back, and sensed her reluctance to do so by her delay in doing the same. 'Good' I thought, if I can make her hang out for it, it will be so much better. Also, I wasn't sure having shot a load the previous night I was ready to do so again so soon.

I explained dishonestly that I'd met a mate and had got pissed and crashed at his place. She said she was so pleased I was ok, and I had breakfast and got ready and went to work.

Ming got home that home about 9pm, looking a bit sad and she went straight to her room. I left her for a while, then knocked on her door. She quietly said come in, so I tentatively entered. She was in tears, she had met her boyfriend hoping to reconcile, but he had knocked that on the head, gleefully telling her he had already been seeing prostitutes who would do the things he wanted (which by inference made her out to be a bit sexually timid) and he no longer had the need for her. She was gutted.

I put my hand on hers and she almost leapt at me to hug me and wept inconsolably. My sick mind was interested in what 'things he wanted' that he was referring to, and asked, hoping to make him out as some kind of warped pervert and me as relatively benign. "He wants to do anal, to come on my face, to share me with other men. I don't feel comfortable doing this" she said. "But every girl does this" I lied. "Aussie girls are all very comfortable with these things, they have few boundaries because they are very liberated".

"Really?" she said? "Is there something wrong with me"?

"No, there is nothing wrong with you, but you just need somebody to be gentle with you, to teach you" I told her soothingly.

She pulled me tight again. "Would you teach me?" she pleaded. "I don't want to be inexperienced anymore. I want to be a proper woman and please a man".

This is what I wanted so badly to hear, but didn't want my eagerness to scare her off.

"Ok, I could teach you" I said. "We could start in a few days after we know each other better".

"I'm going home soon, there is no time for that" she blurted out, "can we start now, with you teaching me how to be a good sex girl?"

I paused long enough to scare her that I wasn't into it as much as she was, so she upped the offer. "I want your cock in me, in my ass, in my mouth, I want cum. I want to learn, PLEASE" she begged.

I stood up, took her by the hand and said "let's start with a shower together". I wanted it to be sensual, but I also wanted her minge to be clean before I started poking around down there. We went to the bathroom, I undressed her and she instinctively covered her breasts with her hands. I took them gently away, and asked why she did that. "My boobs are too small, not like Western girls" she said demurely. I looked at them and shook my head. Clearly her bra was all wrong, having squeezed very nice B+ breasts against her chest, flattening them in an unflattering manner. Free of this constriction, they were shapely, perky and very suckable. I wanted to keep her vulnerable, so avoided too much reassurance of their beauty.

We stepped into the shower, and I applied gallons of shower gel all over her, making her into a frothy mess, caressing her breasts, her mound, her round little ass cheeks and the inside of her thighs, building her sexual energy while casually rubbing my erection against her, but keeping it out of reach when she sought to touch it. I wanted her gagging for it and was prepared to maintain the tease, despite my own desperate need to shove my cock inside her.

I cupped her face in my hands and gently kissed her, then nuzzled her neck before coming back to kiss her more firmly and sensually, teasing her with my tongue, then backing away again. Each time I returned to her mouth she was more eager, sticking her own tongue into my mouth, probing, searching, anxiously building the energy. I turned her around and slid my cock between the cheeks of her ass, and she pushed back happily. Everything was so well-lubed with soap and she was so aroused that I figured it was the time to take her anal virginity, so moved to the side and started rubbing both her pussy and her ass with a probing finger on each. This set her off and she was very quickly moaning, grinding her hips backwards and forwards seeking pleasure back and front at the same time. I inched a finger from both hands inside her gradually, she was deliciously snug, but erotically welcoming to the simultaneious intrusion. I leant down and tongue kissed her again and now with all her holes full she was starting to shake with the unmistakable onset of orgasm. I started poking my fingers in and out slowly then rubbed her clitoris and she was off - a knee wobbling ascent into sexual heaven that meant I had to withdraw my fingers and hold her under her arms so she didn't collapse.

She looked up at me and said "what was that?". I asked if it was the first time she'd orgasmed and she said "if that was an orgasm, yes, it's my first, can we do that again?". I laughed and suggested she might like to catch her breath first. She responded by dropping to her knees, the water now cascading over her head while she took my hard cock and enthusiastically sucked on it. I have good staying power, and after a minute she stood up and asked why I hadn't come yet. It seems that her boyfriend had a hair-trigger release, and came way too quickly to ever have given her any pleasure. The mystery of her innocence was becoming clearer. I explained that I could probably bang her for an hour and still not come if I chose to, and her eyes lit up. She knew now what she had been missing.

"I want your ass" I said, and she smiled and turned around to offer it to me. I soaped her up again, and introduced one finger, then another to get her ready. "Do it" she commanded, so I withdrew my fingers and rubbed up and down crack of her ass again. "Fuck me" she begged, reaching behind to grab my cock and position it aginst her little freckle. I obliged this time, slowly guiding it in against the tightness of a virgin ass, then when it was over the rim it slipped the rest of the way hungrily. "Oh my God" she shrieked, realising she was now being anally penetrated for the first time, but without the pain of first vaginal sex. "Give it to me, fuck me" she cried and I held her hips while rooting her slowly at fast, then building up the pace until I feared sending her head through the glass wall of the shower. "Time to hit the bedroom" I said, pulling my cock out and giving it a quick wash down.

We went to my room and I lit some seduction candles and turned the lights off. The glow was warm and inviting, and she said that her bodyfriend would never have done something so lovely for her. Suddenly I was Casanova on a pedestal. Just where I wanted to be! I asked if she was comfortable with me eating her, and she look puzzled. Here was something else her lame-ass boyfriend had denied her. I swung around, climbed over, parted her legs and started licking her out while my cock dangled above her face. She needed no instruction on what to do, guiding it into her hungry mouth while I rang rings around her clit with my tongue, then traced a line down to her opening, thrusting in as far as could, feeling her spreading her legs as wide as she could to make room for my head between her thighs. It was not long and the orgasmic pulsations returned, and with my tongue in her cunt she came for the second time, and with a little spray of her own jism. "Fuck" she cried, is this what I've been missing? I turned around and hungrily kissed her again with her grabbing my cock to plant it in her pussy. "We need a condom" I said, "we need this to be protected". She explained that her boyfriend had always insisted on no condom, it's a miracle she had not fallen pregnant, but maybe he was shooting blanks.

With the condom in place, I sat between her legs, guided my throbbing cock into her slightly, and teased her that that's all she was going to get. She played along, gently moving her hips up and down, but slowly engulfing my cock with her wanton snatch. It only took a few minutes of this dance and I was fully inside her, with her smiling from ear to ear from the first time she'd ever had satisfying sex. "It's your turn" she said. "I'm your slut to enjoy!"

We spent the next half an hour in various positions, with me backing off each time ejaculation loomed. I wanted this to last as long as possible. She was young and flexible, and I delighted in picking her up and rooting her against the wall with her eyes rolling backwards into her head. We were both in bliss. I didn't want to go changing condoms so avoided fucking her ass again, knowing that would be on offer now any time I wanted it. When the need to ejaculate became overwhelming, I laid her down, whipped the condom off and said "Where do you want it?"

"All over my slutty face" was her reply, just in time for me to position myself over her mouth and shoot four large shots that gave her a nice taste, as well as over her cheek, nose and forehead. I went in to lick it up and share the taste of my jizz with her but she said "Stop, wait, I need a photo". I hurriedly found her camera and she took a selfie in the candlelight of a the world's newest slut with her face covered in boy cream. She then started tapping away and I asked what she was doing. "Justing letting my boyfriend know that my inner slut has been found" she said as she hit the send button on the photo of her cum-glazed face.