The Naughty Thrill Seeker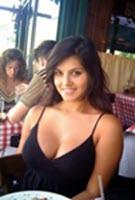 A risk-taker pushes the boundaries of decorum
My marriage had ended but we were still fighting over who would leave the house, so we were stuck together, with our two young children. While my wife had snaffled the master bedroom upstairs and kept an eye on the elder child at night, I slept in the guest room downstairs, next to the younger child. I kept my sexual frustrations at bay with frequent visits to massage parlours when I was travelling around for work, but only about 1 in 10 girls would offer FS, and what I really craved was taking a petite young thing doggy style and rooting her slowly, enjoying it at my leisure. 
I struck up a few conversations on Tinder, but the issue of hosting was always the deal-breaker - invariably I was matching with horny disaffected wives cheating on their husbands, needing a man who could host them during the day, or at night when he was out. As my wife's movements were unpredictable, I did not want the shit fight that would arise if she came home and found me shagging somebody, even though we were irreparably separated. One night however, it all got funky.
---
It was a cold wintry Saturday night, and everybody in the house was asleep. I was checking out Tinder looking for someone, anybody, hoping to have a bit of sexting while I rubbed myself off under the doona. I was flicking right on everybody who looked half decent, then was thrilled when a gorgeous young thing matched with me. 
Her name was Julie, and she'd just left a party but wasn't ready to go home yet. She was just 5km away, and clearly she was in a hurry, as she got straight to the point, she was looking for some action. I suggested that we move the chat to WhatsApp so we could send private photos and she readily agreed.
I explained my situation - my wife was upstairs, my 8 yr old was asleep in the next room - it just wasn't going to fly. She wasn't dissuaded that easily, confiding that she'd be happy to come over and fuck me quietly, with the thrill of getting busted making her wet. This had disaster written all over it, but when she sent me an upskirt photo with her panties pulled to the side, my fear of the repercussions faded and I started thinking about smuggling her in and out quickly. I took a photo of my hard dick, and she responded with one of her mouth wide open, followed by one with one very nice C-cup tit on display.
My mind was going crazy - was this real? Was she going to turn up with friends who would ransack the place when I opened the door? Was I being setup? My desire to shove my dick into her snatch got the better of me, and I gave her my address. She said she'd be right over.
I positioned my self discretely looking out the front window and sure enough, a taxi arrived and only a woman got out. I opened the door in my pyjamas before she could knock and wake up everybody, and it was clear she was a bit pissed. I had to shush her a few times until I could get her into my room and close all the doors.
She was very attractive, full breasts as I'd seen, and a short skirt under her long coat, hiding a pussy that I'd also already seen. I helped her out of her coat and dress, and hurriedly pulled her under the doona with me. She had a lovely, intoxicating perfume to complement her intoxicated state - too many white wines she explained. We felt each other up a bit, kissed and rubbed up against each other, neither of us wanting to appear too anxious. I had a finger playing inside her pussy and she whispered for me to make it two, which I happily agreed, stretching her out while rubbing her clit with my thumb. It wasn't long and she said "ram another finger up me" so I adjusted the angle and got into position to give her a three finger thrashing while sucking her nipples, my thumb rubbing her clit. This got the desired response, and I saw her cover her mouth as she orgasmed, politely avoiding waking the family. 
"THAT'S what I wanted" she whispered after recovering her breath, then closing her eyes for what felt like an eternity. It WAS an eternity, the bitch had fallen asleep, while I still had a hard-on that needed pussy. I got a condom on, and positioned myself on top of her, rubbing it on the outside of her snatch, being careful not to put it inside, despite badly needing to. Clearly this was giving her some erotic pleasure, as she smiled in her slumber and I entertained thoughts of giving it to her whether she was awake or asleep. I pictured myself defending a rape case, so shook her a bit to wake her up, and she jerked her eyes open as if to pretend she'd not been asleep at all. "I need to fill you with my cock, ok?" I whispered, and she instinctively spread her legs and nodded. I mounted her and fucked her as hard as I could, restrained by the noise of the bed hitting a squeaky floorboard just as I got into my stride. She had to restrain herself from laughing, while egging me on "come on lover, ram that hard cock up me" and "just fucking give it to me". The situation was so crazy but so erotic, I wanted badly to come, but I also wanted it to last as long as possible, so I slowed down a bit between strokes, but gave her a good pounding with each one. She was enjoying that, with her spreading her legs as wide as she could while talking dirty to me. 
"Where do you want it?" I asked frantically as I approached the point of no return. "I'd love it in my ass" she replied. I weighed up the risks of an STI going natural, but the thought of a bareback ass fuck with this vixen won me over. "Roll over" I said desperately. "I'm about to cum". She obliged by rolling over onto her knees, after taking off the condom and giving the head a tiny little kiss. I lubed her up and knocked on her back door, gingerly edging the head in until she could accommodate it. She reached back, spreading her ass cheeks so I could go deeper, and she pushed back to meet me with every stroke. "Fill it up" I heard her whisper, and I couldn't hold back any longer, emptying my balls with spurt after spurt of cream. I reluctantly pulled my shrunken member out of her ass, she rolled to the side and I collapsed next to her. 
I woke up the next morning and it all came flooding back to me - I looked over quickly and there was Julie, fast asleep snuggled up happily. "Fuck" I thought, how do I get her out of here? It all got scary when I heard my wife come down the stairs, and start making breakfast for her and the kids in the kitchen. "Fuck". I'm busted I thought. I nudged Julie awake gently and said I'd have to smuggle her out. She was ok with that, but how could I do it with the missus sure to see a girl leaving my room and heading out the front door. I asked her to get dressed, and to get ready for any opportunity, and that I'd call an Uber as soon as she was out the door.
The chance arrived - I heard the back door open so I flew out in time to see the missus take the coffee pot out to empty the grounds on the garden. I signalled to Julie to come, opened the front door, and she was gone. I scampered back in called the Uber, and she messaged another photo of her boob from the back seat as a thankyou.