The sexy Neighbour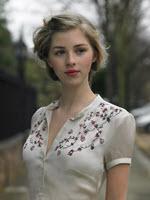 A shapely babe needed help with some woodwork
I had a reputation in the neighbourhood as a handyman, my garage door was often open revealing me making plentiful sawdust with various power tools, and occasionally people would drop in with a request to trim timbers to a certain width on the saw table, or to put a nice edge on a decorative piece of timber using the router. 

One cold Saturday afternoon, a lovely girl knocked on the door and asked if I could help her. She explained that she had just started renting a granny flat around the corner, having broken up with her boyfriend, and the landlord had dobbed me in as probably having the tools she needed to repair a photo frame. 
The frame was her elderly grandfather's, and the soft dowels had long rotted away leaving just the four pieces of beautiful hardware timber. She needed some help to restore it, but had no idea how to go about it.
---
I was able to carefully drill-out the remains of the rotten dowels, and replace then with some new ones that I had laying around. In no time, I had the thing re-assembled and she was taken-aback by my skills and the speed to restore it. 
She agreed to stopping to have a coffee which gave me the chance to learn a bit more about her. Her name was Kym, she had moved from Melbourne to Sydney with her now ex-boyfriend, and was tossing up whether to stay and work in a job she loved, or move back south. As she was quite a bit younger than me, I enquired boldly about her availability for dinner that night, but sadly she was going to a party.
I was just about to hit the sack that night when there was a knock on the door. Opening it with some trepidation, I was stunned to see Kym there in a party dress and clutching a bottle of Baileys. "I swiped this from the bar at the party" she said sheepishly, "would you like to share it?". The way she slurred her words told me she was a bit pissed, the way she stumbled on the door step told me she was really pissed!
Kym came in and I got some glasses and ice and poured the drinks. I put on some music and gave her a blanket as she was starting to shiver. We compared notes on past failed loves and it was clear that she had a thing for older guys - all her boyfriends had been much older, and often married as well. She said she was too young to get serious about anybody, and hence married guys suited her just fine for the excitement of illicit sex.

I could see her eyes were drifting towards sleep, so I asked if she wanted to stay the night. She agreed, saying my place was nice and warm, and it would be nice to be in bed with a man again. Maybe there was a chance here I thought, but she was too far gone for anything tonight.

She was asleep as soon as her head hit the pillow, and I not long after, drifting off to sleep, with an erotic dream of meeting a beautiful girl at a party and dancing with her sexually, rubbing myself up against her. I woke up to find the dream was real - Kym was under the doona giving me a beautifully gentle blowjob! I stroked her hair to tell her that I was awake and she came up to lay next to me - "I want a mouthful of cum - can you help me with that?" she grinned. I kissed her and lifted her top up to reveal her lovely breasts, gently sucking the hard nipples which quickly had her moaning in pleasure. "You've found one of my buttons naughty boy" she said.

"Where are the other ones" I asked, knowing full well where to head next. "Do you want me to tell you, or show you?" she asked?
"Show me" I asked with excitement, so she move up so she could sit on my face, allowing me to taste her deliciously sweet pussy, which quickly sent her over the edge, squealing in delight until she came. "Do you fuck it as well as you lick it?" she asked, sliding herself down to position her snatch next to my cock.  "Fuck me baby" she begged "but I want to taste it, ok?".

She rode me cowgirl, dangling those spectacular breasts for me to play with, sliding my dick deeply into her beautiful wet pussy. I flipped her over and did her doggy, holding her hips and admiring her beautiful figure. On the verge of ejaculation, I had to pull out and tell her I was coming. She eagerly spun around and sunk her lips around my engorged dick, sucking enthusiastically until I filled her mouth with cum which she delighted in showing me before swallowing it theatrically with a broad smile. "I fucking love warm cum" she giggled as she licked the drops off the end of my dick, then had me take a photo of the cum dribbling down her chin on her phone.

Kym became a regular late night visitor, partying with friends then popping in late on any night of the week for a fuck, always finishing with her gulping down a mouthful of jizz and the request to take a photo, responding as though jizz was her life-blood, revitalising her for a week or so until she needed another fill from my fountain. This went on for some months until she suddenly hadn't been around for a few weeks. I went around to her flat to find that she had moved out. She didn't answer my calls. It had been wonderful, but I put her out of my mind until a photo turned up by text of cum dribbling out of her mouth, but also a second blast across her cheek. She'd moved on, but was now doing threesomes the lucky girl!